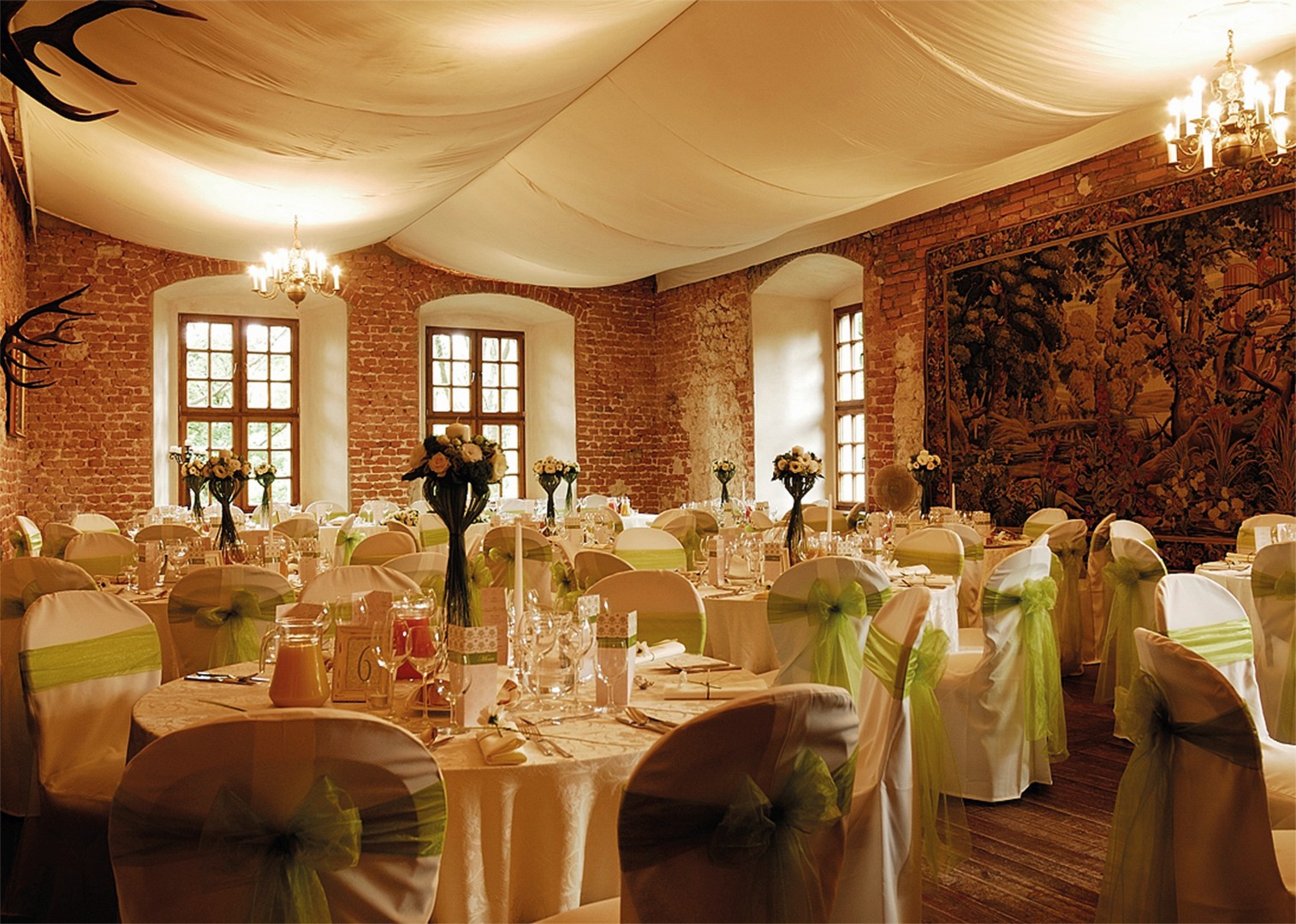 Wedding receptions
Once alive with vibrant feasts and knightly tournaments, Korzkiew Castle welcomes newlyweds to celebrate their nuptials nowadays. Dreams of a beautiful and romantic wedding really do come true here. The wedding ceremony itself can be held in the nearby 17th century church, or out in the open air just outside the castle.
When arriving by carriage or car, you can get to the castle itself. At its foot, there is room for several dozen cars to park.
A red carpet leads to the gate, flanked by torches. The traditional Polish welcome of the guests – with bread and salt – takes place in the open courtyard.
All the banquet halls at the castle are rented for weddings: two on the ground floor and two on the first. Upstairs, the Royal Room can hold 90 people seated at round tables, while the Crown Gamekeeper's Room usually holds the buffet. Downstairs, the larger Renaissance Room is the dancing venue and the smaller Knightly Room is often used as the bar. The courtyard can be arranged as the venue for a sit-down or stand-up banquet, with barbecue and draft beer served to the guests.
For the wedding night, it's a splendid idea to use the residence in the tower and the gate building, accessed via the courtyard. Ten guests can enjoy the four chambers with fireplaces, each with a bathroom en suite. The cloisters over the courtyard give guests comfortable access to the banquet halls from their chambers.
Food is provided by catering services, either the wedding party's own or recommended by us.
Organising the desired alcohol is also left to the wedding party, although wine is offered for purchase. It is imported solely to Korzkiew from France and from an Italian vineyard by the Tagliolo castle in Piedmont.
Come and join us for an unforgettable event! You too can become part of the history of this place.
Korzkiew Castle – welcoming since 1352.