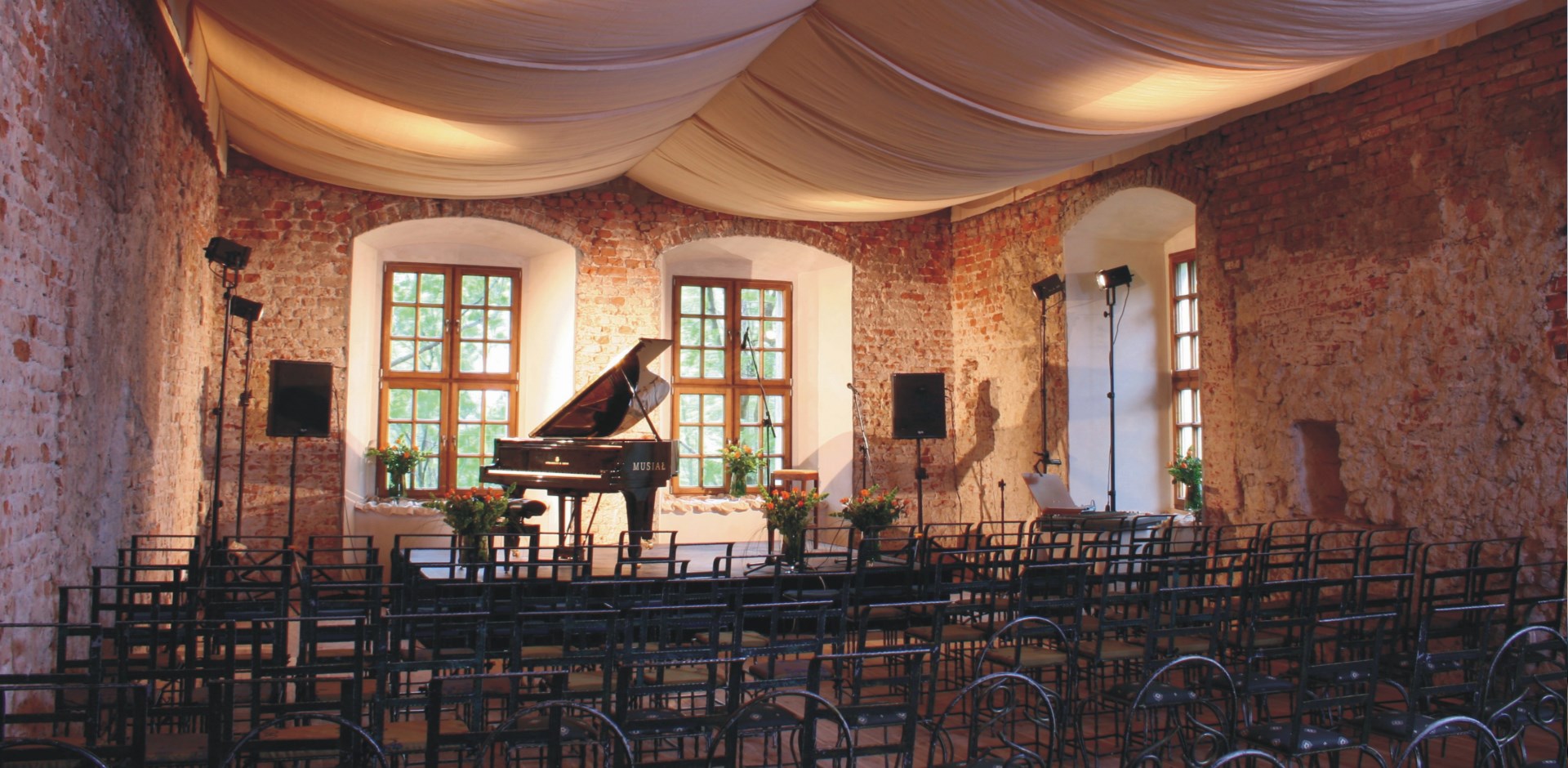 Multi-Function banquet halls in the castle for rent for conferences, meetings and events from April to October.
In 1750, King August III came with his numerous entourage to the Korzkiew castle and stayed here for a few days, while the owner of Korzkiew, Michał Jordan, as befitted the Crown Gamekeeper, organised endless hunting and feasts for his monarch. That is, after all, how the rule of the Saxon kings went down in Polish history.
Today this tradition is continued by participants of various business, social or cultural events held here, as well as conferences, jubilees and concerts.
You can rent any of the four banquet halls: Renaissance and Knightly Rooms on the ground floor, and Royal and Crown Gamekeeper's on the first floor. All of them have fireplaces, which on cooler days heat up the interiors and create a unique atmosphere. For every event, each room is properly arranged and adapted to meet the needs of the customer. The choice and number of rooms depend on the type of event and number of participants.
For breaks in meetings why not enjoy some coffee in the courtyard, and at the end of the event why not have a banquet with drinks and barbecue.
We leave it to the event's organiser to choose the catering company, or you can choose one from among those we have tried and tested in the castle.
Ten participants of your event can stay over in the castle residence, and the others can use the Donimirski hotels in the centre of Kraków, just 13 km away.
Depending on the specific nature of your event, you are welcome to hold larger meetings or events also in the park at the castle's foot. Once we had as many as two thousand people here at a time!
Convenient parking allows access by car for even several hundred participants.
Room capacity:
Room
Dimensions
Surface
The number of seats in the arrangement:
theatre style
stand-up banquet
sit-down banquet
Knightly Room
5,7 x 7,6
44 m2
50
40
32
Renaissance Room
6,8 x 13
86 m2
115
100
82
Crown Gamekeeper's Room
6,4 x 8,8
54 m2
65
60
40
Royal Room
6,9 x 13,5
93 m2
120
110
88